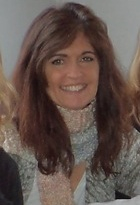 Kat E. Erikson is a writer of children's fiction. Daydreaming and reading were her favorite pastimes as a child, and little has changed. She used to leave the last page of novels unread, so she didn't have to say goodbye to the friends in the story she'd grown to love.
Her love for animals started early too. While in second grade, she and her sister wrote their first "animal welfare" letter, asking a big company to be kinder to animals. And they're still at it, all these years later!
Kat recently moved north of San Francisco, to be near her parents and sister (who has adopted two horses and four cats!). Kat's rescue cat, Kimba, loves to follow her around like a dog, and roll around on her back while she writes.
Kat published her first book ~Pet-Friendly Francie ~  during the 100th Anniversary of American Humane's Be Kind To Animals Week. Kat is also a graduate of the Resonance Science Academy's Unifying Science Course, that helps explain the beautiful connection we humans share with each other, with our animal friends, Mother Nature, and the Universe at large.
Kat's exited to announce that she's completed another animal-friendly tale – this time starring a stray kitten determined to find a home – that will be published later this year.
Category: / Tags:
Comments