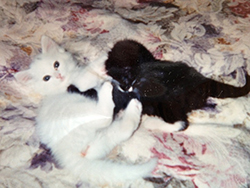 Hi, my name is Kat and I'm an author of children's fiction. I'm also wild about animals – wild or tame, on the farm or flying – you name it.  Growing up, my family adopted many pets. From cats and dogs, to birds and horses, and even a wolf named Buck, a tortoise named Aristotle, and our ADORABLE rat, Ratty Rascal. Over the years, I've had many amazing connections with my animal friends; more than a few have looked in my eyes and sent a "thank you" straight to my heart.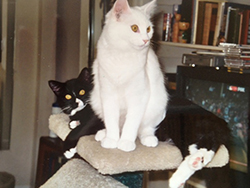 I'd also like to introduce you to my two adopted cats. They are sisters, but you'd never know it. Lizzie is black and white and clowns around like a court jester. While Kima is pure white and regal as a queen.
They're more like a mix between cat and dog. They love to go on walks with me, even on a sandy beach, and come when I call. They also like car rides, hotel stays, and family visits, as well as flirting with new people. The more the merrier. And like all animals, they adore affection.
I like to call them my "synchronized kitties" because they often lay in the exact same position, but inside-out – like the Yin Yang symbol.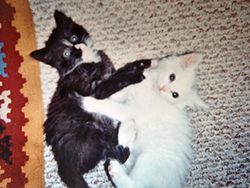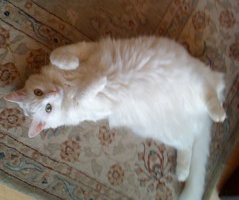 Finally, both Kimba and Lizzie spend most of their lazy time, laying around like otters, feet up, begging for tummy rugs. Moreover, Lizzie has an amazing cat trick – she does somersaults! When desperate for attention, she tucks her head straight down and rolls over, perfect as an Olympic gymnast.
Category: / Tags:
Comments