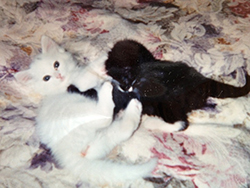 Hi, my name is Kat and I'm an author of children's fiction. I'm also wild about animals – wild or tame, on the farm or flying – you name it.  Growing up, my family adopted many pets. From cats and dogs, to birds and horses, and even a wolf named Buck, a tortoise named Aristotle, and our ADORABLE rat, Ratty Rascal. Over the years, I've had many amazing connections with my animal friends; more than a few have looked in my eyes and sent a "thank you" straight to my heart.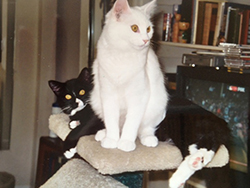 You might have guessed that my favorite television shows are PBS' Animal Odd Couples, Nature and Earth: A New Wild.
I'd also like to introduce you to my two adopted cats. They are sisters, but you'd never know it. One is black and white and clowns around like a court jester. The other is pure white and regal as a queen.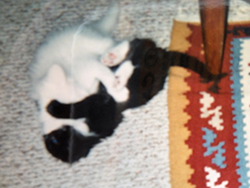 They're more like a mix between a cat and a dog. They go on walks with me, even on a sandy beach, and come when I call. They also like car rides, hotel stays, and family visits, as well as flirting with new people. And like all animals, they adore affection.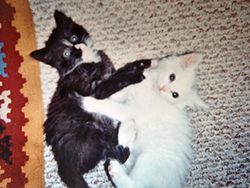 I call them "synchronized kitties" because they often lay in the exact same position, but inside-out – like the Yin Yang symbol.
Mainly though, I call them "The Munchies" because they nibble on people's shirts when "kneadin' 'n makin' bread."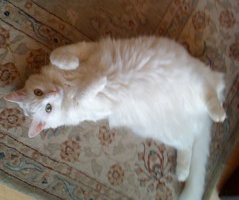 Finally, not to let the cat out of the bag, but later in the story, Pet Friendly Francie meets a cat. Just like my tuxedo-colored cat, she also waddles, and somersaults! When desperate for attention, she tucks her head straight down and rolls over, perfect as an Olympic gymnast.
Category: / Tags:
Comments